| | |
| --- | --- |
| 6 Days | Trip to Chitral "Unlock the fascinating festival combined with traditional water healing" |
Pathak is an unexplored winter event of Injigan Chitral celebrated from 31 January to 01 February every year, for centuries in the mountain region of Injigan Chitral. This tour will unlock the traditional and indigenous health medication of natural hot spring mineral water. Let's explore the hidden winter cultural event and traditional health medication.
About the valley of Injigan and Garamchashma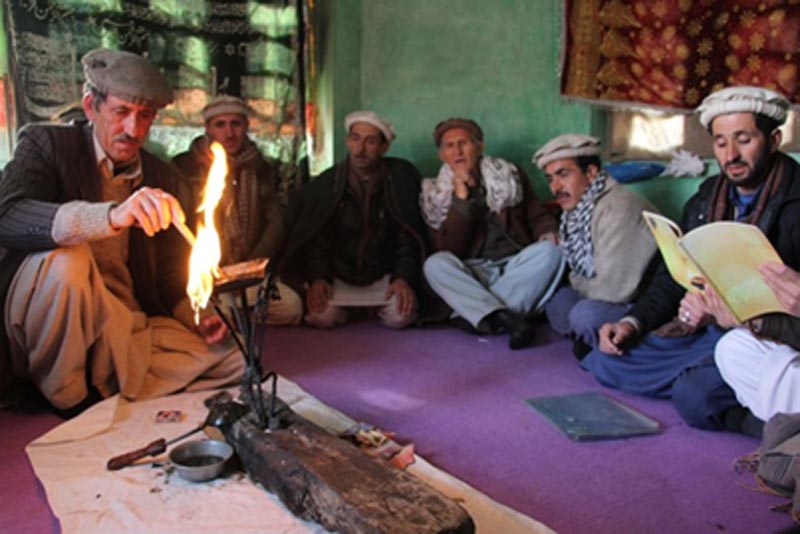 Previously well-known Injigan/Khuzar, 45 km in the extreme north west of District Lower Chitral, Tehsil Lotkoh is commonly known with the name of its Tehsil Headquarter town – Uch or GaramChashma. Injigan is home to 70,000 multi-cultured background people – it has remained a historical trade route as well as pilgrim route routes between Central and South Asia over 4000 years. It is 80 and 170 km away from Afghanistan and Central Asia respectively. These regions have a long history of economic and cultural connections. It used to be the shortest traditional trade routes from Central Asia to sub-continent, oldest living civilizations and heritage of Tajik, Uzbek, Mongolian, Indian, Chines, Arab, Afghan, Turk, Afghan and Iranian, who left behind mixed culture and tradition in Chitral.
In fact, Injigan offers many of the best things to do in one go in one place, including the two major attractions:
Natural mineral Hot Spring
Holy place to be of special religious significance- Peer Nasir e Khusraw lived and preached here
In addition to being home to natural beauty of amazing and stunning landscapes, the scenic mountains, glaciers, trekking routes, lakes, mineral; it is also known for its hospitality, amazing local dining, craft and arts, language, music and dance.
The significance of Hot Spring – Sulphur Mineral Springs & Health Benefits:
Payech Uch (Khowar), Garamchashma (Urdu) and Hot Spring (English) languages respectively are few names in use for the blessed town with Sulphur Mineral Hot Spring. With the passage of time the Urdu name of the town "Garam- chashma" became much common, rather the entire valley of Injigan came to be known by this name, because of the popularity of Hot Mineral Spring Water. According to the Ismaili folk, the hot spring is a blessed gift which started after the prayers and Peer Nasir-e-Khusraw in this region.
The Hot spring has a rich sources of minerals, containing hot spring, chloride, sodium, sulfate, potassium, magnesium, manganese, iron, zine, boron, lithium, phosphate, silica, fluoride, nitrogen with their healing benefits  include treating skin irritations, relieves tension in the joints and relieve sore muscles, help with chronic pain and arthritis, removes toxins, reduce stress, post-workout relaxation, improve sleeping patterns and nutrient assimilation, aid weight loss, opens sinuses, and promotes healthy blood flow and infections such as rashes and eczema etc.
Mountain hot spring has its own unique blend of minerals and temperatures indigenously used for medical and health benefits for centuries. The healing powers of water were known in ancient Greek, Roman, and Egyptian societies from ancient Japan and China. The practitioners of modern occupational therapy, physiotherapy, and alternative healing all use "water cures", hydrotherapy and Balneotherapy includes such therapeutic treatments as saunas, steam baths, foot baths, contrast therapy, sitz baths, and colonic cleansing.
The significance of cultural event – Pathak
Seasonal and religious festivals are very important in all the societies, culture and religion, and are celebrated with religious enthusiasm, zeal and passion. They protect, preserve, foster and transform religious principles and practices, cultural heritage, values, and traditions.
A number of seasonal and religious festivals are celebrated in Chitral and Pathak is the very unique festival celebrated on
31 January or 01 February
every year subject to local astrological prediction in the Injigan valley. It is also known by the name "Lotkoho Pathak". According to the folk heritage of Ismaili Muslims, Pathak marks the successful conclusion of the 40 days (chilla) meditation by Peer Nasir e Khusraw, the legendary Fatimid period Ismaili mystic, who preached Islam in this part of the world. He is believed to have lived here for some time before returning to his hometown through the same cave of meditation in Badakhshan-Afghanistan. There are numbers of historical evidence to support this thesis, including the shrine/ mausoleum of Peer Nasir-e-Khusraw, the mountain cave, his dresses, arts and crafts etc.
Pathak is a Sanskrit word and means preceptor or a person who teaches. Completion of 40 days full fasting meditation in the mountain cave and commencement of Islamic values in the region is said to be the Remembrance Day of the preceptor and teachings celebrated in that memory.
For the purpose of preaching and teaching, Peer Nasir-e-Khusraw used different method and tools for bringing the local people in one particular place by providing them food and follow up Qassida-Khani (praising God) program, using different musical instruments called "Gharba and Daff". He also sang beautiful poetic melodies to influence the local people to accept his version of preaching and teaching, which is still practiced for about one thousand years in the region and other regions of Afghanistan and Central Asia.  
The shrine/ mausoleum/Ziarat of Peer Nasir-e-Khusraw is located in the center of Garam Chashma town, and it is being looked after by the Ziarat custodian called "Darveshan" (a branch of Saddat families). It is a place of great respect and veneration for both the Ismailia and other sects of Islam. Thus the Ismailia of Injigan celebrate the festival of Pathak since centuries with great respect and zeal to mark that significant event.
The event brings numerous happiness and joys for the people during the preparation and celebration for three days (one day each pre and post Pathak). The local people clean and decorate their houses with different signs of animals, trees, and white flour. They buy new clothes and cook special food. People visit each other in their homes/villages for greeting and share the joy of festival.
Before the festival, Pathakins (volunteers/ heralders/ messengers) are sent by the local astrologer/Khalifa (the elder of the custodian of shrine) for commencement of the festival in all villages. They give the message of blessings of the day and the year. The day of the festival is preceded by Samoon (pre-Pathak), when houses are completely cleaned and gifts prepared for distribution among relatives including milk, butter, cheese, dry fruit, and other local food. On Pathak day relatives visit families, especially their married daughters and exchange gift of the year – called "bash". The term 'bash' has a very contextual indigenous significance and gifts under the term bash are held in high regard.
This is basically a "thanksgiving event" starts with early dawn, when the most respected religious elder/leader (Peer, Khalifa, Qazi etc.) visits different houses and exchanges best wishes and prayers using special words "Mubarko bashad" (congratulation with best wishes). Families welcome them to their houses with sprinkling white flour on their shoulders, which is an omen of blessing. The visiting guest is offered indigenous cheese (pandeer) as eshpeeri (a very special welcoming refreshment).
Early morning the male segments of the villages gather at the mausoleum/Ziarat of Peer Nasir e Khusraw to pay tribute/homage, respect, and fatiha to the great holy soul of Peer Nasir-e- Khusraw for his outstanding services and contributions. At this shrine, the Qazi/ Khalifa deliver speeches about the preaching and teaching of Peer Nasir e Khusraw and the community renews their commitments to follow the philosophy, teaching, message and concept of humanity in the true prospective of Islam.
Special religious and cultural programs and activities are also held to highlight the contribution and importance of the saint in the Ismaili faith and the beautiful concept attached to the tradition.  On this occasion, traditional best foods are brought to Ziarat (shrine of Peer Nasir e Khusraw) by families on voluntary basis, which is considered as sacred called 'luqma' and blessed food. The community members gathered at the Ziarat and collectively praise and thank God for the guidance and Siratel Mustaqim (right direction), peace, happiness, good health, prosperity and continuing blessing in their lives, families, in the region, country and for the entire humanity on the planet.
The day and the next day of Pathak is enjoyed by communities visiting each other's, sharing their special indigenous organic food, including local sweet dish (shoshparaki) and ishpeeri (cheese) are specially prepared for this day. On this day, relations are revived and differences are resolved after mutual forgiveness. This healing touch of Pathak is its distinguishing feature.
Traditional sports like tug of war (shimeni zhingkek), stone throwing (boht pissik) and swinging (chukubeezh) are played. The festival gives us the lessons of unity, tolerance and peaceful harmony. People visit each other houses in groups and this resultantly promotes spirit of unity, brotherhood and physio-psychological relief by engaging in sports etc. They also understand each other situations and is a great opportunity of forgiving each other.
Let's join hands to keep the Pathak going and let's share the happiness of it!
Itinerary for three days trekking:
Day 1 & 2

02: 29 – 30 January 2021
Departure from Islamabad to Chitral by Luxury Tourist Bus services at 8 PM or special Coaster and arrival at Chitral at 6am on day-02 dated 30-01-21.
Day 2
Activities for 30 January 2021 (optional)
Option-1:  In case Pathak is scheduled for 31st January 2021, on arrival and breakfast proceed to Garamchashma, Injigan. It will take another two hours' drive to reach Injigan Hotel Garamchashma for participating in the Pathak SAMOON Day activities by visiting the community at night to see and watch the preparation (SAMOON) activities and overnight in Hotel Injigan Inn. Here the group will enjoy the indigenous health medication activities with natural Hot Spring by taking bath, shower, steaming and swimming and traditional spa etc at night.

Option-2: In case Pathak is schedule for 1st February 2021, the group will transfer to hotel for breakfast and short rest. Afternoons explore Chitral Bazar, visit to Shahi Majid, Chitral Fort, Chitral Museum and overnight stay at Chitral subject to scheduling of Pathak for 1st February.
Day 3 & 4

Dated 31-01-21 and 1st February [Activities under option-1 above:]
Early morning visit to Peer Nasir Khusraw Shrine/Mausoleum to watch the Pathak event activities, follow up visit to community houses in the area to watch and participate in the celebration for full day enjoying the local and traditional food, sport and culture event evening return to Chitral city for overnight stay in Hotel.
Day 5

Excursion of Kalash valley, the living civilization, heritage and unique culture of the world, Kalash community is the most endangered 3500 people in three different valley of Bumburet, Rumber and Birir valleys at distance of 45KM in two hours' drive from Chitral.
Day 5 & 6

Late evening departure to Islamabad by Luxury Bus at 8 pm and arrival at Islamabad at 06 am on the 6th day of the trip, drop at Karachi Company G-6 or Rawalpindi- Peer Wadai Adda.
Cost of the Itinerary:
The cost of the itinerary for 6 days Islamabad to Islamabad is Rs.32, 600 per participant. It covers the following:
Transportation from Islamabad to Islamabad by Luxury tourist Bus and in Chitral Prado Land Cruiser with local driver, fuel, snow chain, full heating and air-conditioning, outstation allowance, accommodation of driver and food. Passenger per vehicle 4-6 per Prado.
Double sharing basis room charges+ room heating, service charge, taxes for 4 nights or community accommodation, if stay with them during the festival event. Single supplement will be charged @2000/ per night extra.
Breakfast for 5 days
Tour guide payment for 4 days in Chitral.
Hotel & transport reservation/booking and facilitation visit to community in houses during the event.
Toll tax at entry to Kalash.
Not Included:
Food charges and all extra refreshment, if any
Expenses of personal nature
Spring Mineral Hot Water Swimming Pool charges, if availed by any group members
Museum entry, photography and video making charge, if availed by group members
Extra refreshment or entertainment charges.
Extra charges, in case of special transport from Islamabad to Islamabad @3000 per person
Any other charges, not mentioned in the included list.
Children Policy:
Under 3 year free
3-8 years –half charges
8 plus year full charges
Deposit & Refund Policy:
50% on reservation through bank transection to be deposited with Chitral Travel Bureau
Full payment two days before departure or immediately on arrival in Chitral
One-week advance cancellation 50% of the deposit
Two (2) days before the commencement of the trip full deposit
Recommendations:
Please bring the following gears/kits with you:
Snow walking boots 
4-6 pair of warm socks
Over/run coats/jackets
Muflers, gloves and goggles
Trekking stick
Underwear, swimming kits, light blankets etc..