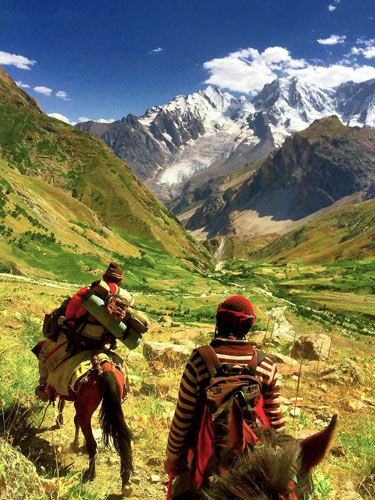 Chitral lies isolated in the top corner of Khyber Pakhtunkhwah, bordering with Afghanistan. The river draining Chitral flows southwest into Afghanistan to join the Kabul River, which then drains again into Pakistan and then Indus River.
The only access to Chitral is via the Lowari Pass (3000m) through a newly built tunnel under the pass and by daily flights from Islamabad and Peshawar. Each summer only a handful of tourists find their way to Chitral, most of them pass quickly through on jeep safaris, so one can trek here for weeks along the remoter valleys of Hindu Kush without seeing another foreigner or a local trekker. In other words Chitral Valley is full of attractions for adventure and nature lovers.
Chitral is a radiant and beautifully green valley, covered by forests, ideally situated (1300m), amidst the world's most lofty peaks in the Hindu Kush range. Mount Trichmir (7690m) the delight of mountain climbers reigns majestically over the valley. Chitral district has Afghanistan on its north, south and west.
A narrow strip of Afghan territory, Wakhan separates it from Central Asia. One of the major attractions of Chitral are the Kalash valley (the home of Kafir-Kailash or wearers of the black robes), a primitive pagan tribe. Their ancestry is enveloped in mystery and is the subject of controversy. A legend says that five soldiers of the legions of Alexander of Macedonia settled in Chitral and are the progenitors of the KafirKalash.